Meeting Motherhood: An Ebook about New Motherhood
In the summer of 2012, Josh and I scribbled down a list of 30 before 30 while we waited out a thunderstorm in the basement of a home we were housesitting. It was just us, the dog, and the future before us.
I wasn't pregnant yet, but we had decided that we were ready to start a family. In that moment, I didn't know whether it would take us four weeks, four months, or four years to get pregnant. So, I remember scribbling down items with a little secret hope buried inside my list--I wrote things we could do even if we had a baby. I didn't write things like take a two month road trip or backpack in Europe. I wrote "ride a real train" and "visit latin America"
And I also wrote down "write an ebook."
But I had no idea what I would write an ebook about. Then, about two months after that night in the basement, I held a little stick with trembling hands. It was positive. Boom. Life changer. And, suddenly, the idea of writing an ebook looked far offish and unimportant.
But, then, there was a moment when I was about 20 weeks pregnant when I had a little nugget of an idea. I decided that I would try to write once a week and jot down my thoughts and reactions about pregnancy and new motherhood until the baby was 6 months old (that was my goal). I wanted it to be in real time, not a reflection of what happened two weeks or two months before.
So, for months, I squirreled away words in a pages document; they weren't refined or eloquent, but they were my honest and real thoughts. They were written after days on swollen feet or after I had a hormonal meltdown. They were written in afternoons when my body was weary, but my words needed somewhere to go, so I wrote instead of napped. They were written after grace had been poured all over me, and I wanted to remember it.
I could have kept all these words in a document just for my eyes to read, but I truly believe that our stories connect us. Perhaps, I realized, my collection of stories and reflections of new motherhood could be encouraging and life-giving to another new mom (or seasoned one) who was in the thick of things too.
So, I finished writing just a bit after Luke turned six months old and began the process of designing some encouraging printables to include and tidying up some misspelled and missing words. But, I didn't rewrite or rearrange my words so that they would be prettier and more eloquent. I wanted my words to reflect my experience--scattered, imperfect, lovely, and perhaps a little rough around the edges.
My hope is that if you
grab the ebook
, that you will find it a refreshing and easy read. And that you will look at your own story and be encouraged to share it with others. Your story has value. And if you do want to share your story with me, I'd love to hear it.
If you are interested in learning more about
Meeting Motherhood
or purchasing the ebook, visit
www.meetingmotherhood.com
for all the extra details. There are also some
free printables
on the website too (click
here
to see them).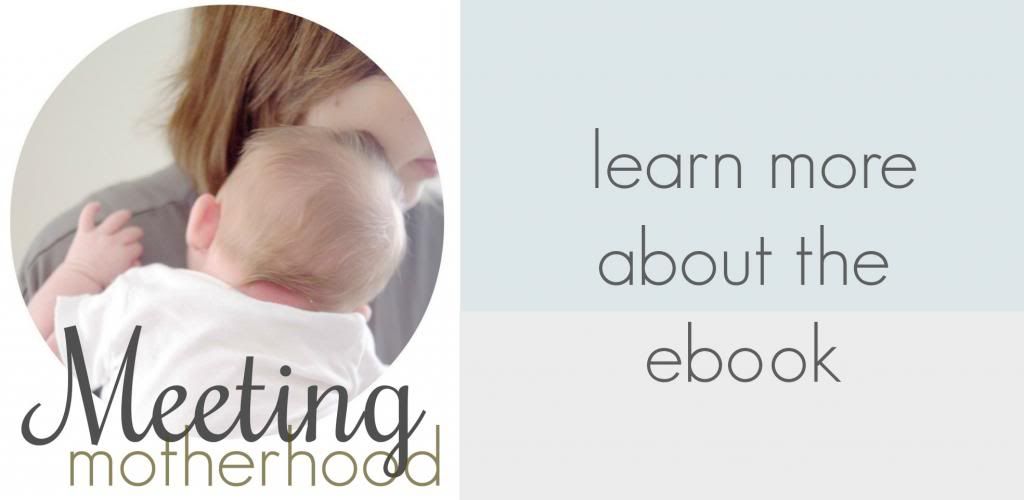 Happy Monday, friends!