Newborn Essentials {A Lovely Curated List from Kimber Campbell}
**I'm so thankful to have some lovely ladies filling in while I'm busy snuggling with the little one! I absolutely adore this list of newborn essentials from Kimber!**
hello all! I'm Kimber and I blog over
here
in my little space of the interweb. Nice to meet you! When Nicole asked me to guest post I jumped at the idea of sharing some of my favorite newborn essentials. My daughter will be a year in May, so it took me a minute to think back to the things that got me through the first few weeks as a new momma. I have such fond memories from that sweet, sweet time. Such special memories! I know Nicole will feel the same way. I CAN'T WAIT to see pictures of her precious little bundle. She'll make such a great mom!
Okay, let's get started!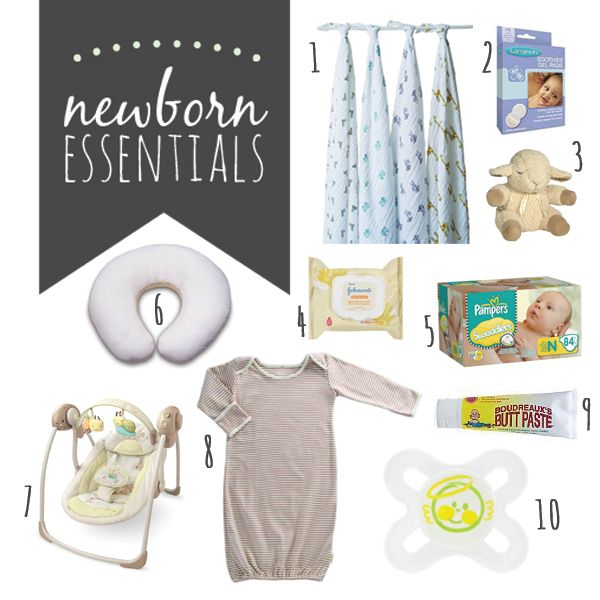 1.
Aden + Anais Swaddle Blankets
- So, I know the whole world raves about these muslin blankets-- but there's a reason for it. They are AMAZING. I live in Texas and they were the perfect lightweight blanket that allowed me to tightly swaddle my daughter. They are a pretty decent size, so she never wiggled out of swaddle. A must- have for SURE!
2.
Soothing Gel Pads-
These little round pads were heaven sent. If you are a nursing momma, they will be your BEST friend in between feedings. Put them in the freezer for a little bit for extra relief.
3.
Lamb Sound Machine-
We attached this little guy to my daughter's carseat for comfort while we were in the car. The ocean sound was her favorite, and was key to putting her to sleep.
4.
Hand and Face Wipes-
These are a staple in my diaper bag. Even though I tried to keep my daughter's hands and face covered, someone, somewhere would ALWAYS walk up and try to touch her. People can't keep their germy hands off of babies! Don't be afraid to tell them not to touch either :) I would always wipe her down after the person walked off.
5.
Pamper's Swaddlers
- I tried out so many different diaper brands because we were trying to find the cheapest, yet best diaper on the market. Though these might be a little more expensive, they are the absolute best, in my opinion. I like that the back of the diaper comes up further than most, preventing (a few, but not all) blowouts.
6.
Boppy Pillow
- Oh my arms are still thanking the Boppy for support during feedings. It wraps around your mid-section and allows you to hold the baby close in a comfortable position. I splurged and purchased a custom cover from Anna at
For the Love of Joy
on Etsy. She does such an amazing job! I loved looking down at her beautiful work while nursing.
7.
Portable Swing
- My daughter was a swing sleeper. We purchased a big swing that stayed in the living room, but this one was nice because we could transport it wherever we were in the house. She always slept best snuggled up and rocking.
8.
Sleep Gown
- Not only did this keep my little girl warm, but it also was a life saver during middle of the night diaper changes. No one wants to try to snap a sleeper at 3 am!
9.
Boudreaux's Butt Paste-
Silly name, amazing product. I can't tell you how many times I've become super nervous with a diaper rash, rubbed some of this in and within 24 hours the rash was gone. It's incredible!
10.
MAM Pacifier-
Now, I know all baby's are different and prefer different pacifiers, but this was my daughter's preference. I like that it has air holes on the side so baby doesn't get a rash around his/her mouth.
**Thanks for sharing, Kimber! You guys definitely need to go check out her
blog
-- it's really a darling space :) Plus, her daughter is adorable!!**