Confessions x10
Beware: this post is a culmination of a hundred (actually 10...um...Josh may be right that I exaggerate) buzzing thoughts that need somewhere to land.
I'm going to number my thoughts. No particular order of importance.
1. I am currently in bed. Thinking about my blog. I'm also drinking tea and trying to ignore my finger cramp from too much keypad circling. It's annoying.
2. I'm thinking about what I'd like to do with this blog. You see, I want it to be more. More than DIY, recipes, or furniture projects. Those are all well and good, but I want this blog to capture our lives. Not only that, I want to encourage you. I want to connect with my little number of blog groupies. Who are you?
3. I'm currently writing something. I'm writing about stuff. Quite literally. Stuff. I've been thinking a lot about simplicity, generosity, intentionality, and all the stuff we have. And I'm writing about it. Maybe someday I'll share.
4. I hate to sweep. Unless I'm listening to music and then is somewhat bearable. Unfortunately, this means that I always have shoes/slippers/flip flops on because I hate floor crumbs on my feet. Thankfully, I have a cool little vacuum that is wonderful for grabbing up dirt and dog hair. I'm thinking about sweeping because I see too many dust bunnies on our bedroom floor.
5. I wish I could be a Stay-at-home-something. I like being home. But, I would still need to find something to do. I get too antsy with too much time on my hands. On the flip side, I really do love my job and enjoy my co-workers. So, maybe just a part-time SAHS.
6. I'm really digging the idea of having a baby soon. Josh is really digging focusing on school for a bit longer. So, we are hanging tight. Although I'd like to tell you all that I'm always really patient about all of this, I'm not really. I waver between content, annoyed, frustrated, happy, terrified of actually being pregnant or giving birth, hopeful, sobbing, just fine, and all emotions in-between. I have a dream I'm having a baby at least once a week.
7. I've been thinking a lot about God's grace lately. I've been thinking about how easy it is for me to try, try, and try to be better, more generous, nicer, etc. Yet, as I read scripture, I realize more and more that it's not about me trying harder but simply adoring Him. Resting in Him. Christianity is not about checking off boxes of "to-dos"; it's about relationship. Why do I try and make it so complicated? I give myself all these self-imposed expectations and get so tired of failing at them. Obviously, there are some standards that God asks us to consider. Like loving Him. Loving others. Avoiding sin. Living in gratitude. Yet, I often try and live the Christian life without Christ. I try to do it by myself. That's like trying to have a healthy marriage with no communication or enjoyment--just doing everything out of obligation. Or trying to be the potter and the clay. The painter and the wall. Not possible. So...today, I am choosing to live in the freedom of Grace. To adore the one who took my sin, redeemed me, and loves me. Grace undeserved yet freely given. When I live in His grace (instead of my own set of "must-dos," love comes naturally and peace abundantly. Even when I act ugly, His conviction is gentle and love unwavering. Have you thought about grace lately? When you really think about it, it's mind-boggling.
"Look to the Lord and his strength; seek his face always" Psalms 105:4
8. Whew. I kinda feel a little strange putting that out there. But, I want to share about real life on my here bloggity-blog.
9. Currently, it sounds like 100 crying wolves outside. Weird. And slightly unnerving.
10. I've been adoring my sister-in-law's new Etsy shop:
Cafe Fresco
. I especially love her green print of Minnesota. I miss it there...although, they may be jealous of the 70 degree plus weather we've been enjoy here in Texas ;)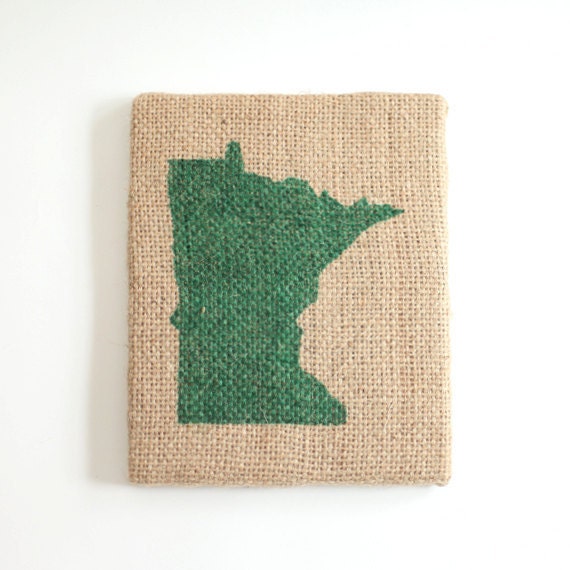 Alright. I'm off to bed. I think :)