Miss Skinny Legs
Miss Skinny Legs was a 5 dollar find and I just fell in love with her little legs!
But! She was a stubborn piece of furniture (or I was perhaps impatient!).
She started out pretty simple, a wooden side table with scuffs and scratches. I do have some before shots that I will add when I have my computer back in order!
She then got primed and painted all white. After two coats, I started to notice that the scratches were showing through the paint on the top of the table. I was not too thrilled about this so I tried to use a little wood filler to fix the scratches and prime and paint over that. And, of course, that just made things worse. Ahhhh!
I took a moment and remembered that this is a learning process! I went out, bought some paint stripper, and when to work.
Scraping, Scraping, Scraping...
Sanding, Sanding, Sanding...
I then filled in the scratches. Although they didn't all go away since I couldn't get too deep into the wood with simply sanding by hand and not using a fancy electric hand sander, I was happy with the results. She looks a little rustic!
I didn't want to go through all the painting again so I decided to try my hand at staining. I had bought a can for accenting the distressing so I just used that. It turns out I like to stain! Although the before staining process was a lot more laborious than painting, it was actually fast and easy!
Here's the final result, in her new spot in the living room:
I also linked up to:
http://thediyshowoff.blogspot.com/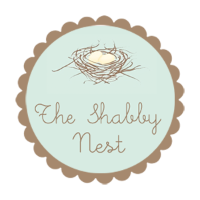 a href="http://www.missmustardseed.blogspot.com">